NHS Spring Fling, sponsored by SGA will take place March 27-31. There will be no flex time this week. Students will report to first block classes from 8:05-9:30 to allow time for Spring Fling events.


Juniors and Seniors, Once you fill out the form on the following invitation, you can buy your ticket with Mrs. Senn in the front office.
https://forms.gle/urYvfN3YcRNeMFNJA
Tickets will be sold from 8:30 - 3:30 every day until 4/28. A reminder that ticket prices will be going up the closer we get to prom. ** If your date does not attend Newberry High School they MUST fill out a gold form and return it for approval. You can get this form from Mrs. Senn. **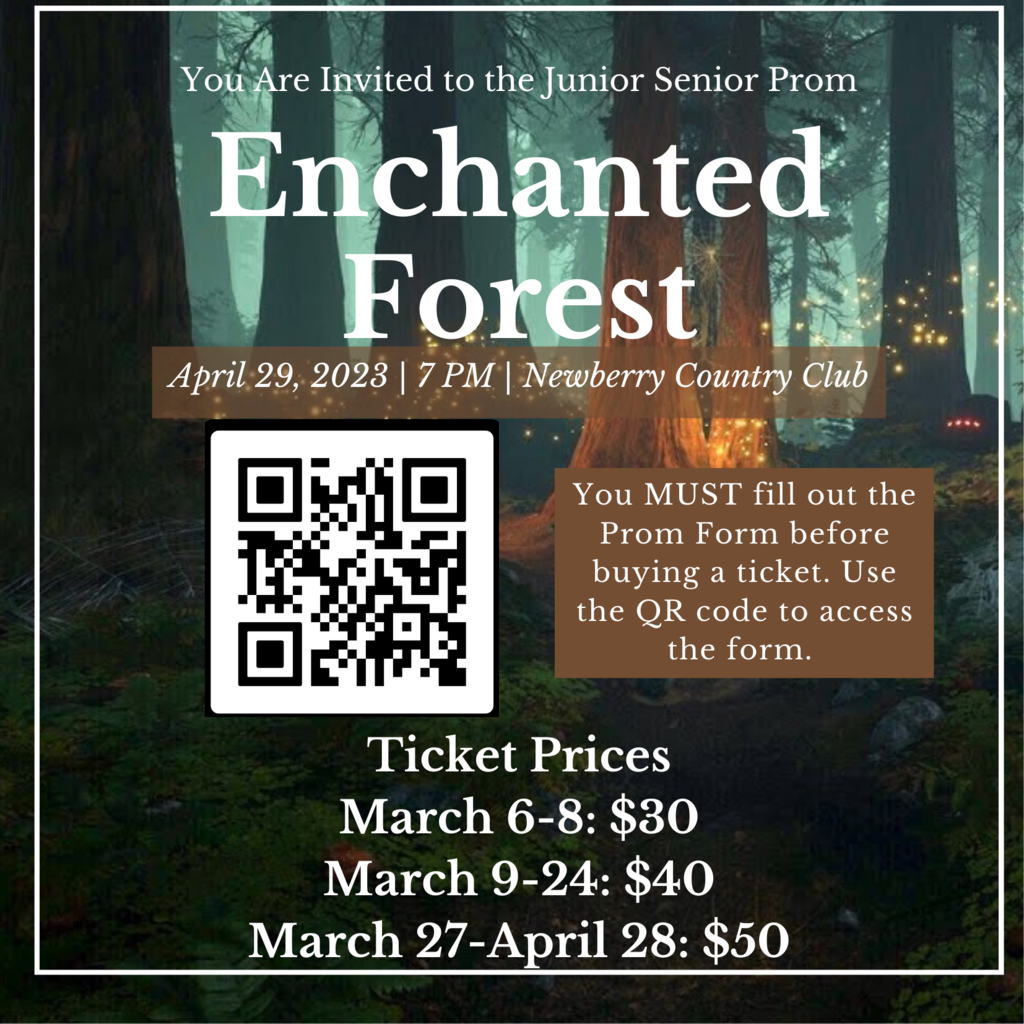 SDNC will have a mass physical day for $25, open to athletes of Newberry County Schools. A new physical will be required before practices begin in May. NHS, NMS, and WCS athletes can come to Newberry High on May 6th from 8-12 PM. MCHS and MCMS can come to MCHS on April 29th from 8-12PM.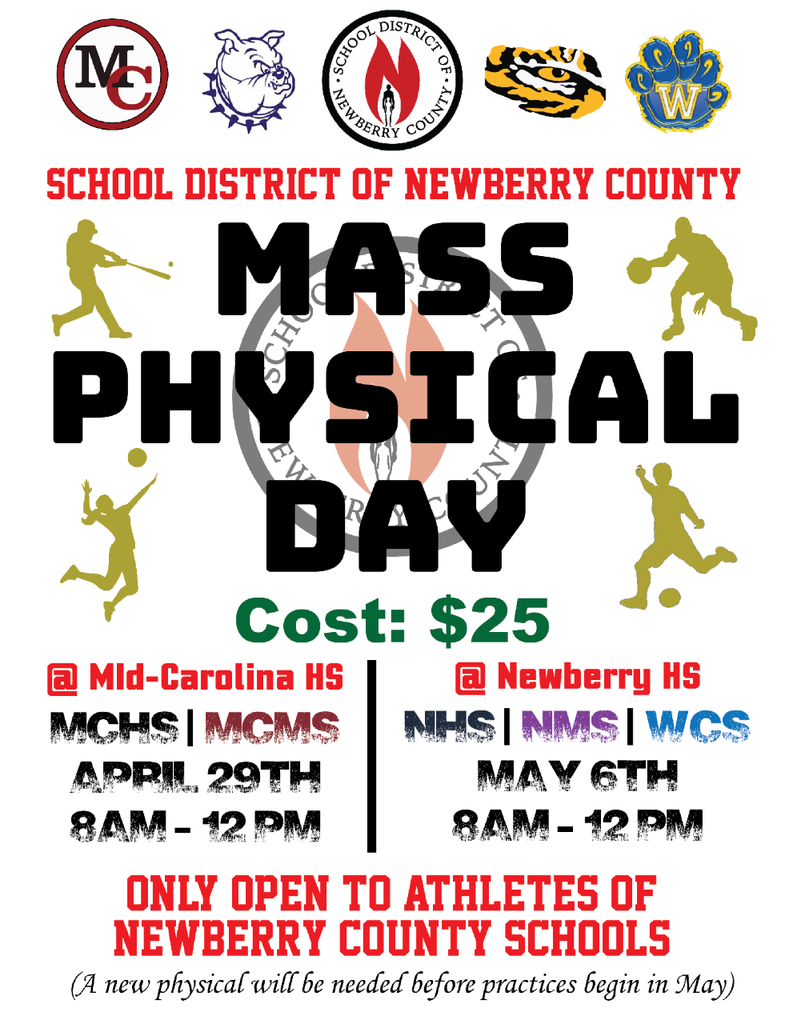 Newberry Football 2023 Throughout March, Newberry High School football will have open-season practices on the game field from 3:45 PM until 5 PM. Rising 9th (current 8th graders) through 12th graders can participate as long as they are not playing a spring sport. All participants must have a current physical on file. For returning players who are not playing a sport, these dates count toward your opportunity to be a captain. We will not have after-school weightlifting on practice dates. Practice Dates: Lineman (OL/DL): March 7th, 14th 21st, and 27th. Skill (Everyone else): March 9th, 16th 23rd, and 30th. If you have any questions email Coach Jeter at
cjeter@sdnc.org
.

NHS student Grace Livingston will be competing as Miss Newberry in the Teen USA pageant. Preliminaries are on March 3, and the final competition will be held on March 4. Dominate!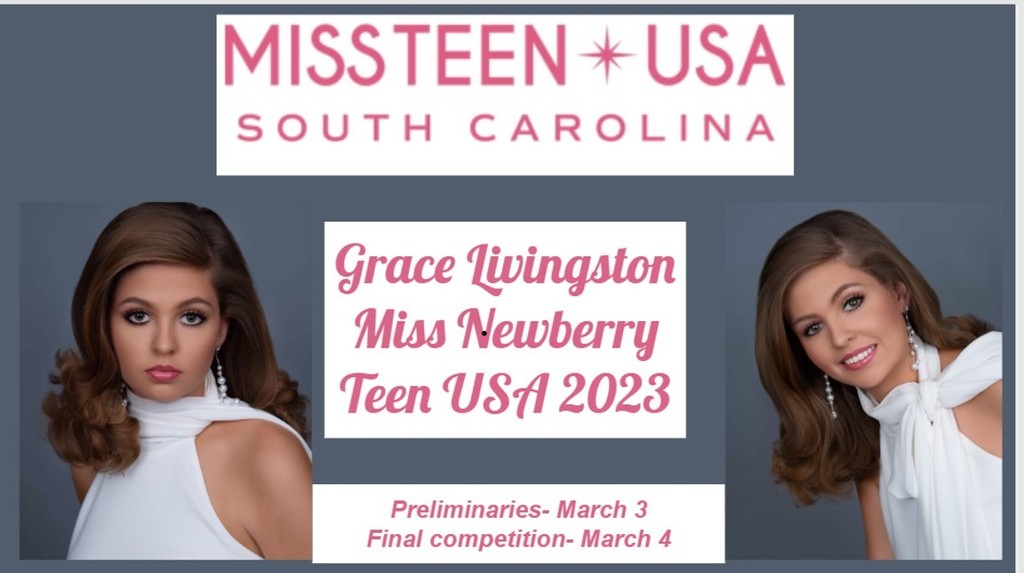 The 2023-2024 School Calendar was approved at the February 27, 2023, Board Meeting. Please access the calendar at
https://5il.co/1pwhp
. It can also be found on the NHS website menu under "our school".

Applications for the Junior Volunteer Program at Newberry County Memorial Hospital have arrived! If you're interested in health care and interested in volunteering at the Newberry County Memorial Hospital during the summer, see a school counselor for an application packet. Applications are due back to the school counselors by April 11, 2023 so that we can get them mailed to the hospital by the April 14th deadline.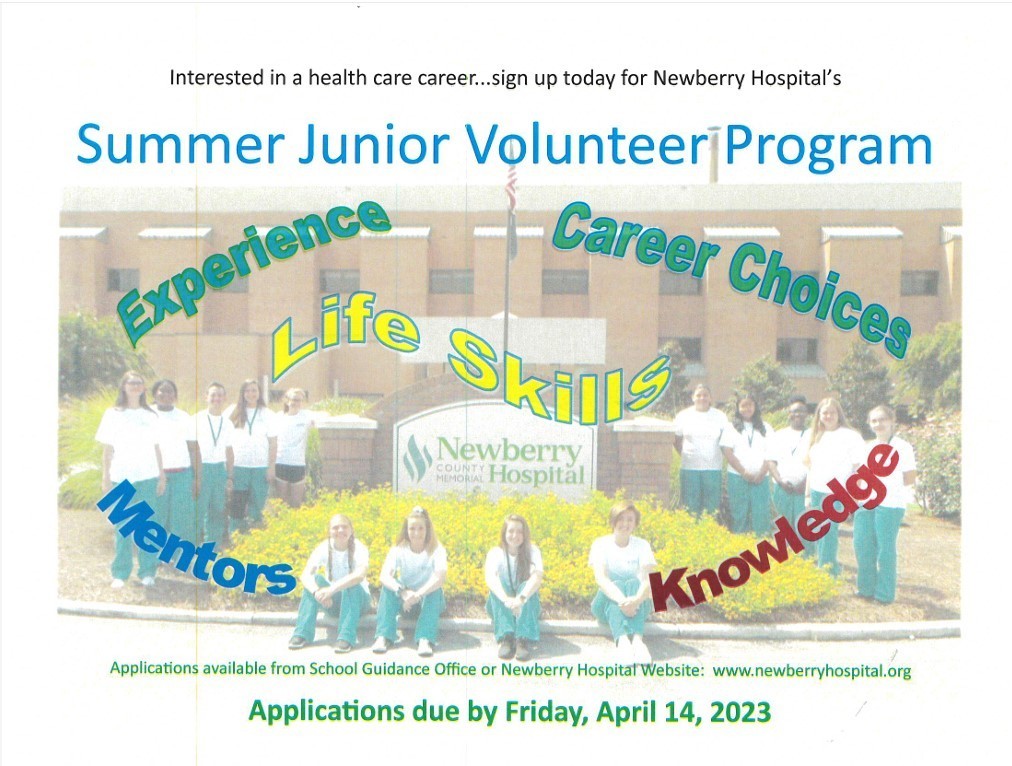 ATTENTION JUNIORS!! We will be taking a field trip on March 23, 2023 to Piedmont Tech in Greenwood to explore their career and program opportunities. If you're interested, then please see your School Counselor or Mrs. Senn to pick up a permission form. Deadline to submit is Monday, February 27th.

NHS Students can sign up to see a Newberry College Men's Basketball game February 22. See flyer for details.

Prom Dress and Tux donations accepted every school day from 8 AM- 3:30 PM. Contact Hannah Rowe for more information!
hrowe@sdnc.org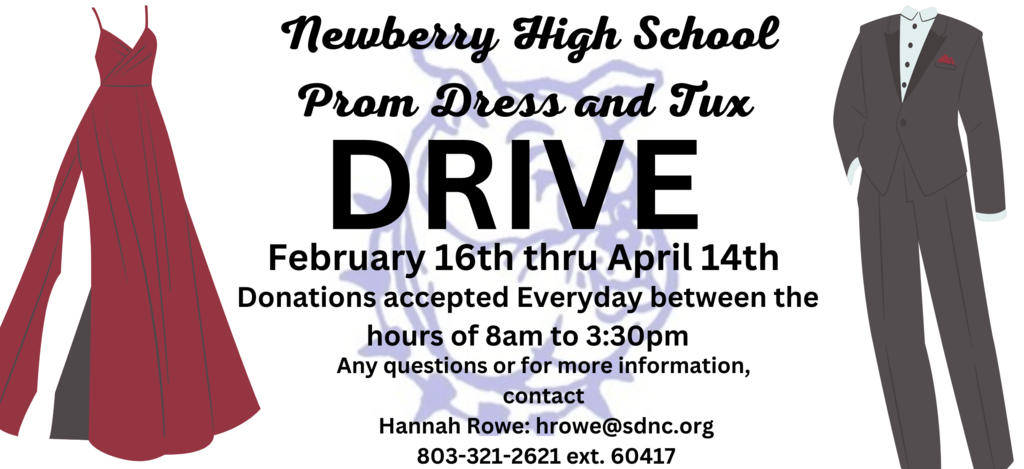 Happy National SRO Day to the officers who keep our students, staff, and schools safe each day!

Happy School Bus Driver Appreciation Week to our wonderful drivers!

How to Plan and Pay For College 101- free webinar for parents of elementary, middle and high school students . Webinars - Register for any webinar at: cfcsc.com on February 6, 16, 23, March 9, 1 3 @ 7 PM, or March 23 @ 12PM. Rob Mendenhall is a certified College Planning Specialist. What you will learn: College Savings Options • How Financial Aid Works • Scholarship Opportunities -Retirement-First Approach • Advantages for Business Owners - Looking Beyond Sticker Price • Red Zone Cash Flow Planning How To Save Thousands of $$$$ by Starting Early • And Much More!

Attention Juniors! The applications have arrived for Palmetto Girls State and Boys State. Please see any school counselor for an application. Applications are due back to Ms. Cary by February 24th at 12:30 PM.

NHS Softball Team Store is open! Team Store Close Date: 2/14/2023 CURRENTLY, WE ARE ABOUT 4 WEEKS + SHIPPING TIME FROM THE CLOSE DATE OF THIS STORE Store Link
https://stores.inksoft.com/WS81086


Attention Junior Girls- American Legion Auxiliary Palmetto Girls State is coming soon! ALA PGS is a weeklong program this summer designed to immerse you in a real, functioning government, in the mythical State of Palmetto! ALA PGS is held at Presbyterian College in Clinton, SC June 11-17, 2023. Who knows, maybe you will be the next delegate selected to attend ALA Palmetto Girls State. Be sure to see Ms. Cary for your application today. Applications are due back to Ms. Cary by 12:30 PM on February 24, 2023. *We receive ALA Palmetto Boys State information separately from Girls State. We will update social media when we receive information for ALA Palmetto Boys State.*

✅District Recruitment Fair 🗓️Saturday, Feb. 4 📍Mid-Carolina High School - 377 Cy Shumpert Rd. Prosperity, SC 29127 ⏰9-11 a.m. 🥳Certified and Classified Openings 🤝All Schools and Departments Represented

✅District Recruitment Fair 🗓️Saturday, Feb. 4 📍Mid-Carolina High School - 377 Cy Shumpert Rd. Prosperity, SC 29127 ⏰9-11 a.m. 🥳Certified and Classified Openings 🤝All Schools and Departments Represented