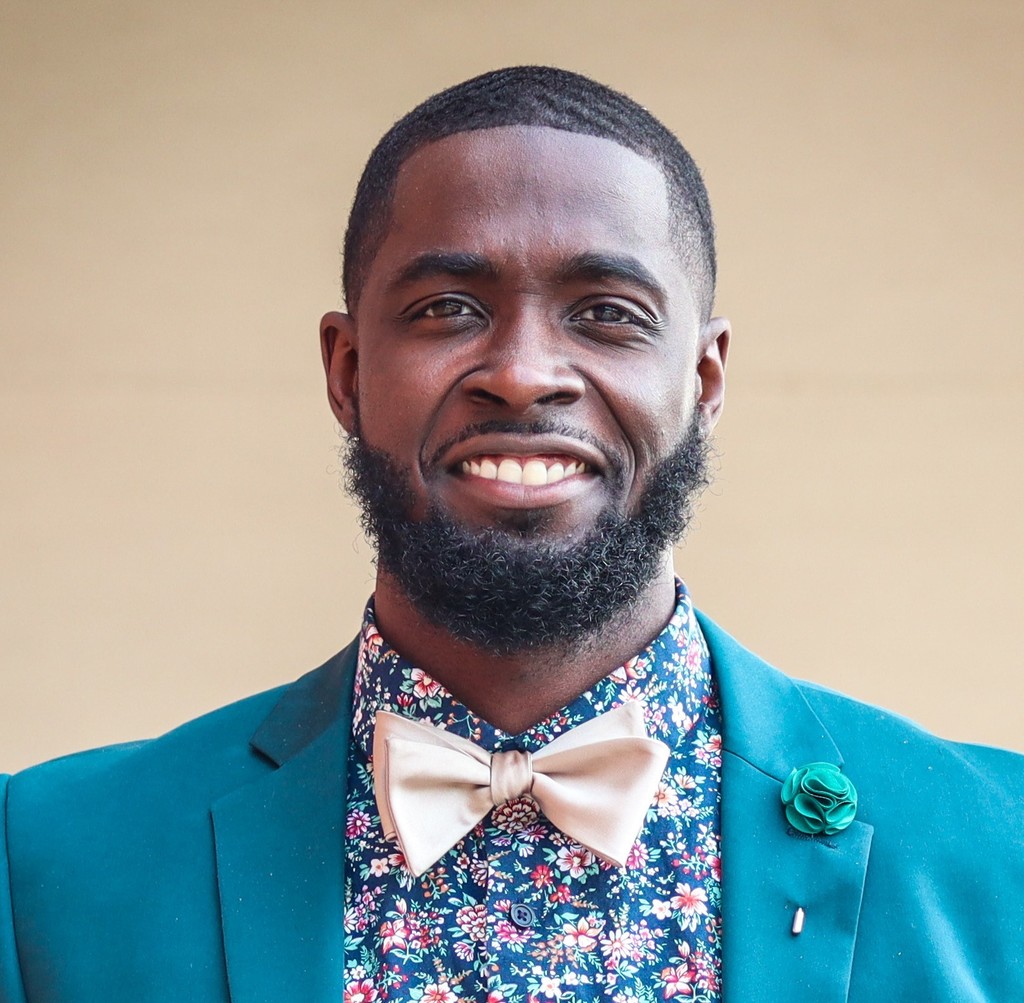 The School District of Newberry County is committed to ensuring the safety of its students, staff, and spectators at athletic events.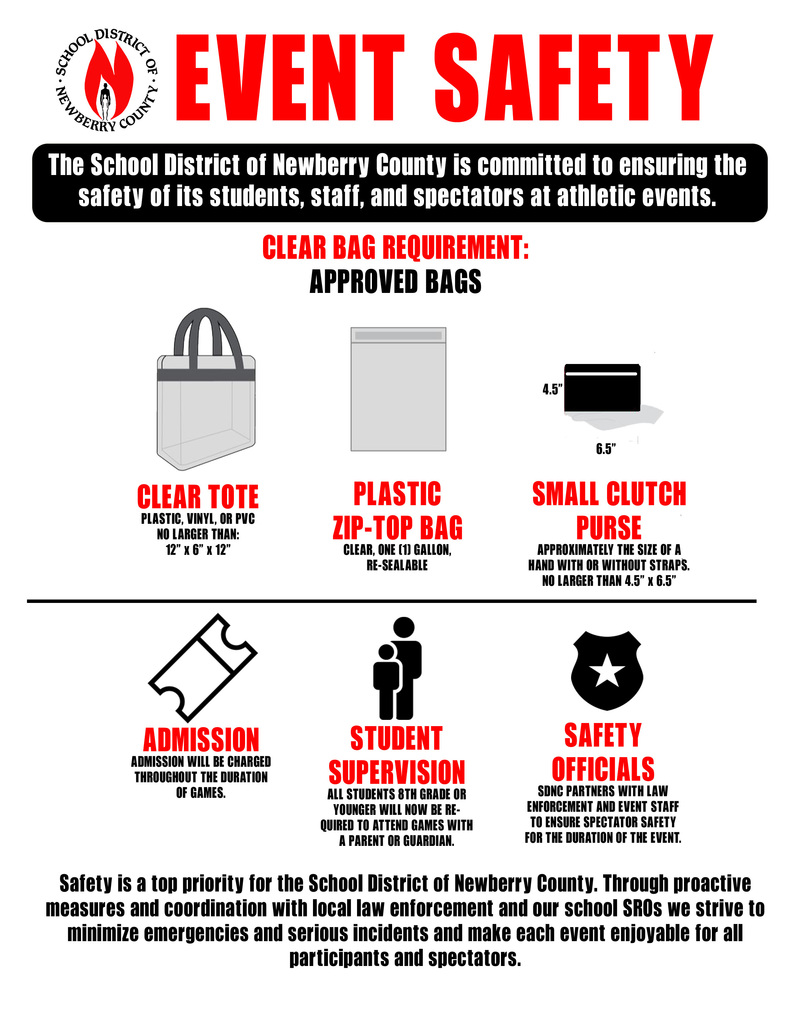 Community and family members, please welcome Dr. Brandon Ross as the new principal of Newberry High School! There will be a meet the principal night Tuesday, July 26 at Newberry High School from 4-6 p.m.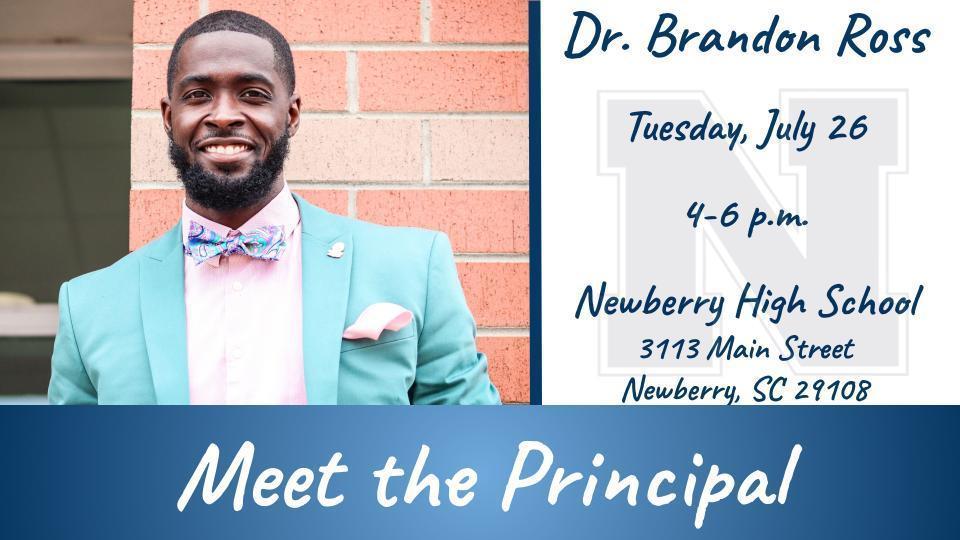 Newberry High School will resume normal schedule on Tuesday, May 24. Additional personnel, including an increased presence of law enforcement will be on site to assist students and staff. "I want to express my personal condolences to the families of the victims during this very difficult time. The Newberry community has been deeply impacted by this weekend's events, which has led to the loss of four young lives. No parent, friend, teacher is ever prepared to face a tragedy like this. I want to thank the local law enforcement agencies for their work and support and we will continue to work with them to make certain our schools are safe and secure. We have made the decision to have students return to Newberry High School tomorrow to provide them with the support from their school and district family," Superintendent Alvin Pressley.
Out of an abundance of caution, Newberry High School will have an elearing day Monday, May 23. All classes will meet at the scheduled time via Google Meet. Students who cannot access the internet during this time, are asked to communicate with the school by calling 803-321-2621. All after school activities at NHS are cancelled for Monday, May 23. This only affects Newberry High School for Monday, May 23.
Spring football practice will start May 16th, be at the field house at 3:30PM.

The School District of Newberry County graduation dates and times: Mid-Carolina High School: Wednesday, June 1 at 8:30 a.m. Whitmire Community School: Wednesday, June 1 at 7 p.m. Newberry High School: Thursday, June 2 at 8:30 a.m. Contact your child's school for more information.
Senior Cap and Gown Picture Day is May 13, 2022. Orders and package information can be seen by clicking the following link-
https://5il.co/19r1j
Family Engagement Night will be held on Tuesday May 3, 2022 from 5:00PM-7:15PM at NHS Cafeteria for any student that received a flyer. Topics covered will include: Meals, Literacy Sessions, and Prizes!
View the NHS Newsletter for the latest information! All events listed are also on our Events Calendar for your convenience.
Student Government Elections Election information has been posted! Students should see me for election packets. Once again this year, we will be working about 85% online. Students will need to pick up a paper from Ms. Hartness with the links that they need and a parent/student contract.
Bulldog Kickball! Students will have the opportunity to create a kickball team and compete for GOLD! We will have a registration station at the SGA table in the cafeteria Thursday and Friday April 28-29. • Teams can be between 8 and 10 players. The cost is $2 per player. Teams must be mixed gender. • Students should form their teams BEFORE registering. • The preliminary games will be played May 3rd during 4th block (we may adjust this time depending on the number of teams that sign up). We will NOT have an audience for the preliminary games -- this will only be for the participants. • The final game will be May 12th, beginning after the last lunch, approximately 1:15. This will be open for students -- more information coming soon.
Fall Festival Booths on Sale for August 19 and September 30. Join us for Festival Days Newberry High School Football games! Come out and meet you community, sell your goods, or represent your Church/Club/Organization. If you sell something or would like to represent your church or outside organization, booths are only $50/game. Spaces are limited and will be issued on a first come, first served basis. All of the money we raise will go back into our Athletic Department. All Family-Friendly Vendors Welcome to Apply! No food vendors please. Questions? Contact
halexander@newberry.k12.sc.us
Registration Link-
https://docs.google.com/forms/d/e/1FAIpQLSdOO4sTVLvziEYg_S1jPzjoxLETV6U6yFNjr2FjsdSJnv7JNg/viewform?usp=sf_link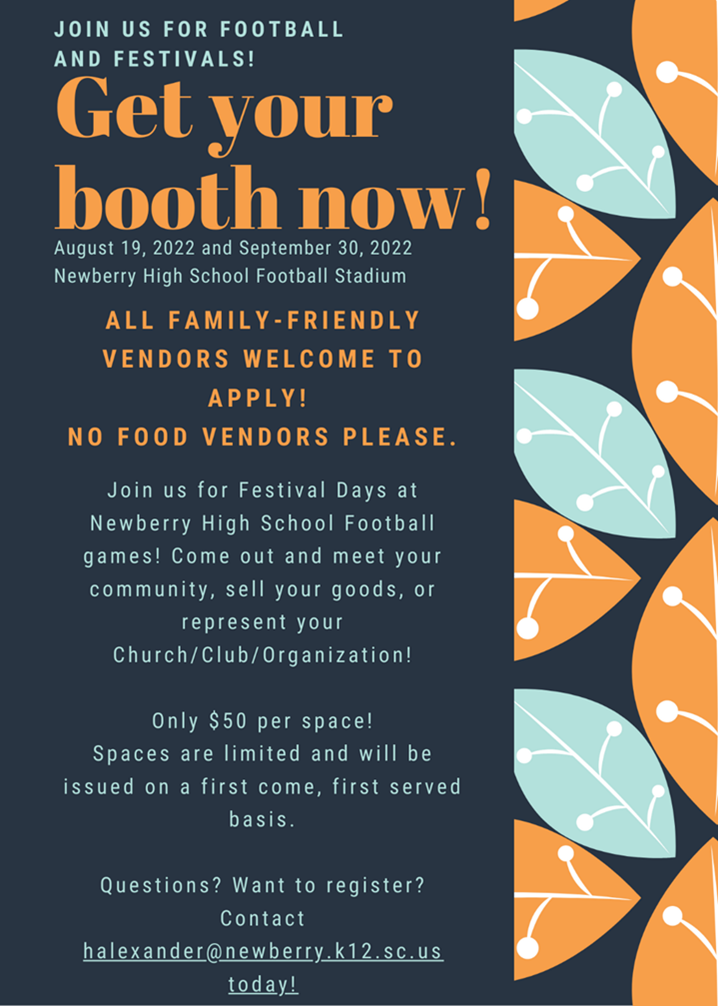 Below is the link for our NHS Band fundraiser! The Fancloth store will be open until April 18th. Please share with your friends and family and SHOP 'TIL YOU DROP! Thanks in advance for all of your support of Newberry Bands.
https://fancloth.shop/CSD5F
Cheer Tryouts will be held April 28 and 29 from 3:30 PM-5:30 PM in the NHS Gym. See Ms. Trammel for more information. *Returning members must have past cheer dues paid in full to participate. A current physical must be on file to try-out.