NHS Softball Team Store is open! Team Store Close Date: 2/14/2023 CURRENTLY, WE ARE ABOUT 4 WEEKS + SHIPPING TIME FROM THE CLOSE DATE OF THIS STORE Store Link
https://stores.inksoft.com/WS81086


Attention Junior Girls- American Legion Auxiliary Palmetto Girls State is coming soon! ALA PGS is a weeklong program this summer designed to immerse you in a real, functioning government, in the mythical State of Palmetto! ALA PGS is held at Presbyterian College in Clinton, SC June 11-17, 2023. Who knows, maybe you will be the next delegate selected to attend ALA Palmetto Girls State. Be sure to see Ms. Cary for your application today. Applications are due back to Ms. Cary by 12:30 PM on February 24, 2023. *We receive ALA Palmetto Boys State information separately from Girls State. We will update social media when we receive information for ALA Palmetto Boys State.*

✅District Recruitment Fair 🗓️Saturday, Feb. 4 📍Mid-Carolina High School - 377 Cy Shumpert Rd. Prosperity, SC 29127 ⏰9-11 a.m. 🥳Certified and Classified Openings 🤝All Schools and Departments Represented

✅District Recruitment Fair 🗓️Saturday, Feb. 4 📍Mid-Carolina High School - 377 Cy Shumpert Rd. Prosperity, SC 29127 ⏰9-11 a.m. 🥳Certified and Classified Openings 🤝All Schools and Departments Represented

✅District Recruitment Fair 🗓️Saturday, Feb. 4 📍Mid-Carolina High School - 377 Cy Shumpert Rd. Prosperity, SC 29127 ⏰9-11 a.m. 🥳Certified and Classified Openings 🤝All Schools and Departments Represented

✅District Recruitment Fair 🗓️Saturday, Feb. 4 📍Mid-Carolina High School - 377 Cy Shumpert Rd. Prosperity, SC 29127 ⏰9-11 a.m. 🥳Certified and Classified Openings 🤝All Schools and Departments Represented

✅District Recruitment Fair 🗓️Saturday, Feb. 4 📍Mid-Carolina High School - 377 Cy Shumpert Rd. Prosperity, SC 29127 ⏰9-11 a.m. 🥳Certified and Classified Openings 🤝All Schools and Departments Represented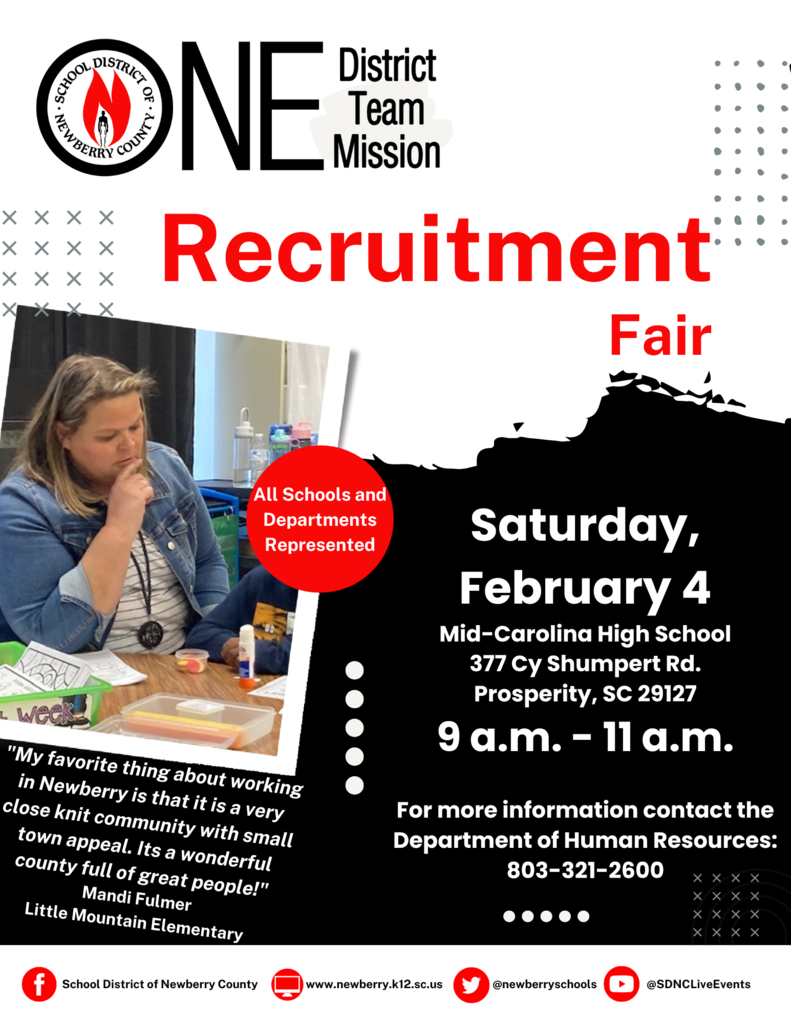 Parent Teacher conferences will be held on Thursday, January 19, 3:30 PM - 7:00 PM and Friday, January 20, 8:00 AM- 12:00 PM.

Recruitment Fair! Saturday, February 4 Mid-Carolina High School 9-11 a.m. Recruiting for all schools and departments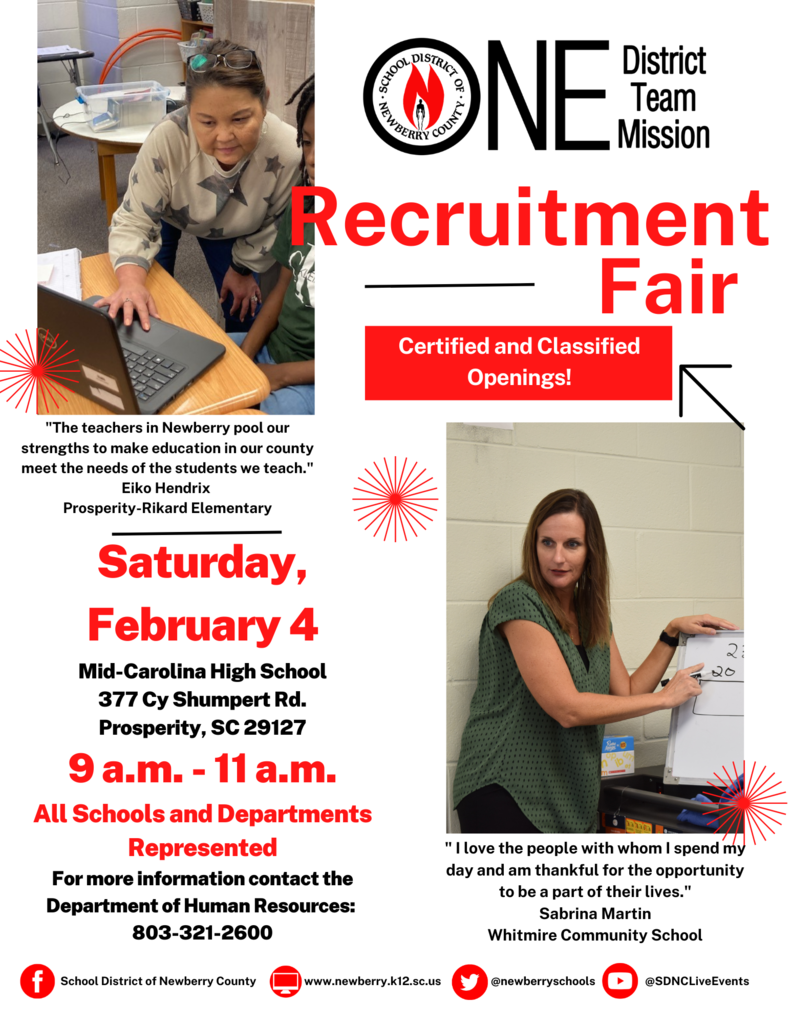 Newberry High School is recruiting the best and brightest educators to join the Bulldog family for the 2023-2024 school year. Apply online at tinyurl.com/newberrycareers #DOMINATE #TheBestOfNHS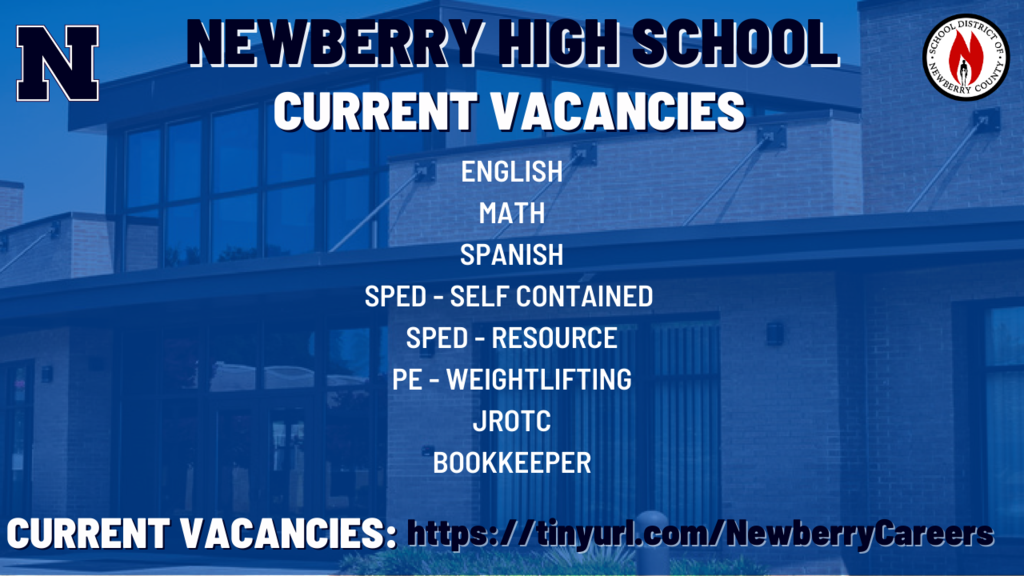 Attention Seniors and Parents of Seniors, Class of 2023! IMPORTANT information for you to review!
https://5il.co/1lsdc

Due to an issue with the facility at Chapin High School, tonight's Varsity Basketball game has been moved to Newberry High School. Varsity girls start at 6:00pm.

Please take note that final exams will take place on Monday, December 19 (1st period and 3rd period) and Tuesday, December 20 (2nd period & 4th period). Wednesday, December 21 is a half day for students.

NHS Bulldog Basketball Alumni Game on Saturday, December 10 @ Willie Scott, Sr. Gymnasium 4PM! Player fee is $20, admission is $5.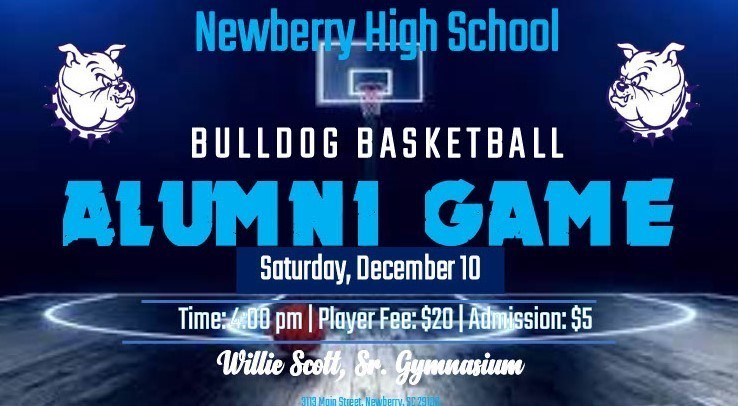 Congratulations to Hal Mooneyham for being selected as our Distinguished Teacher of Literacy! Hal is in his 18th year at NHS, and we appreciate his hard work!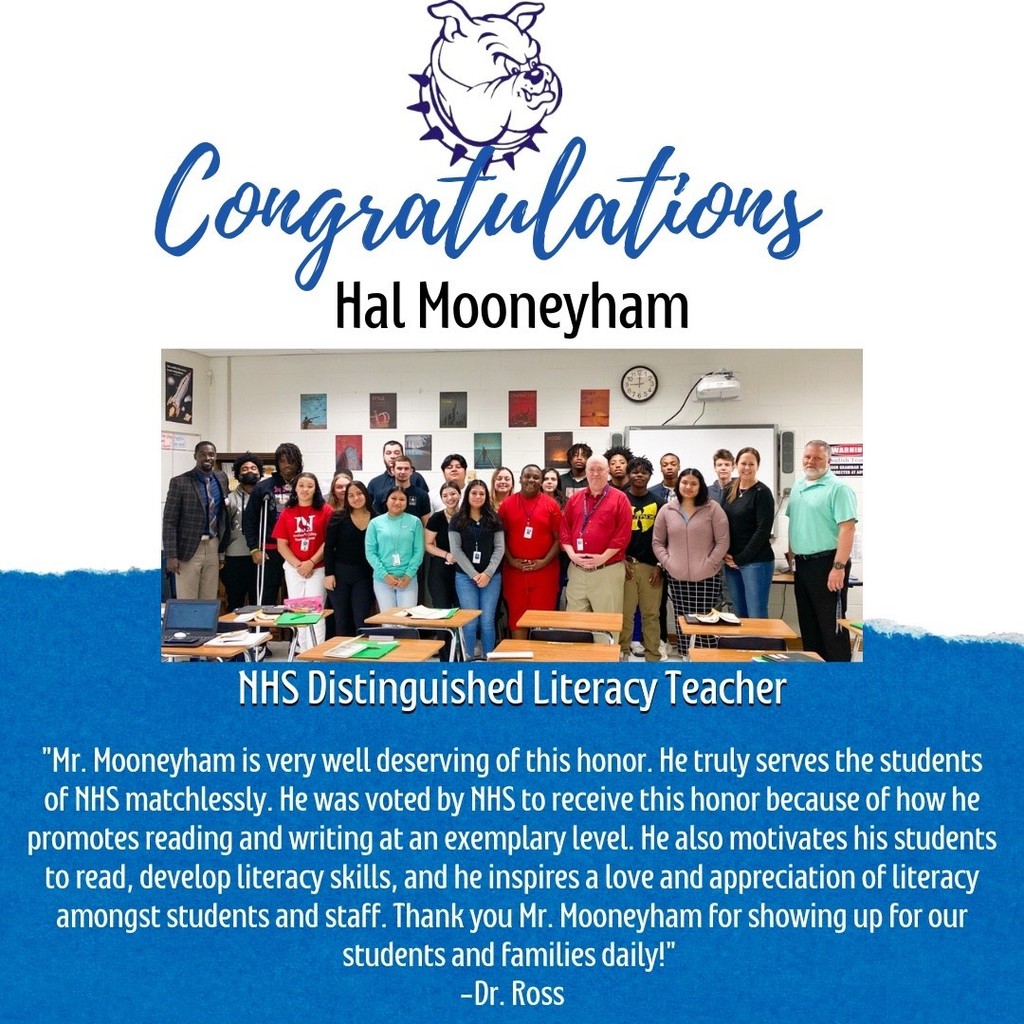 Congratulations to our NHS Homecoming King, Kyon Daniels, and our NHS Homecoming Queen, Tanasia Singley!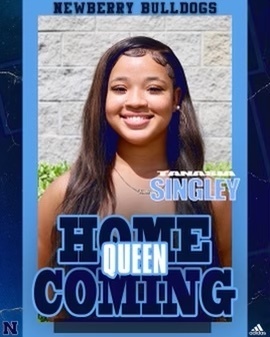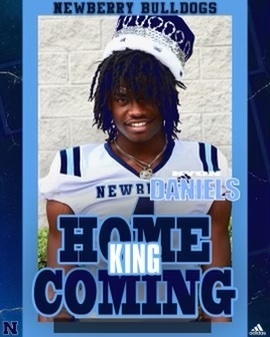 NHS Beta Club is hosting a Trunk-or-Treat on Thursday, October 27th from 4:00-6:30 PM, outside the football gates before the final JV football game of the season. Register with the QR code on the image to host a "trunk" space and support the NHS Beta Club. All donations and proceeds from registered spaces will go to fund state convention participants.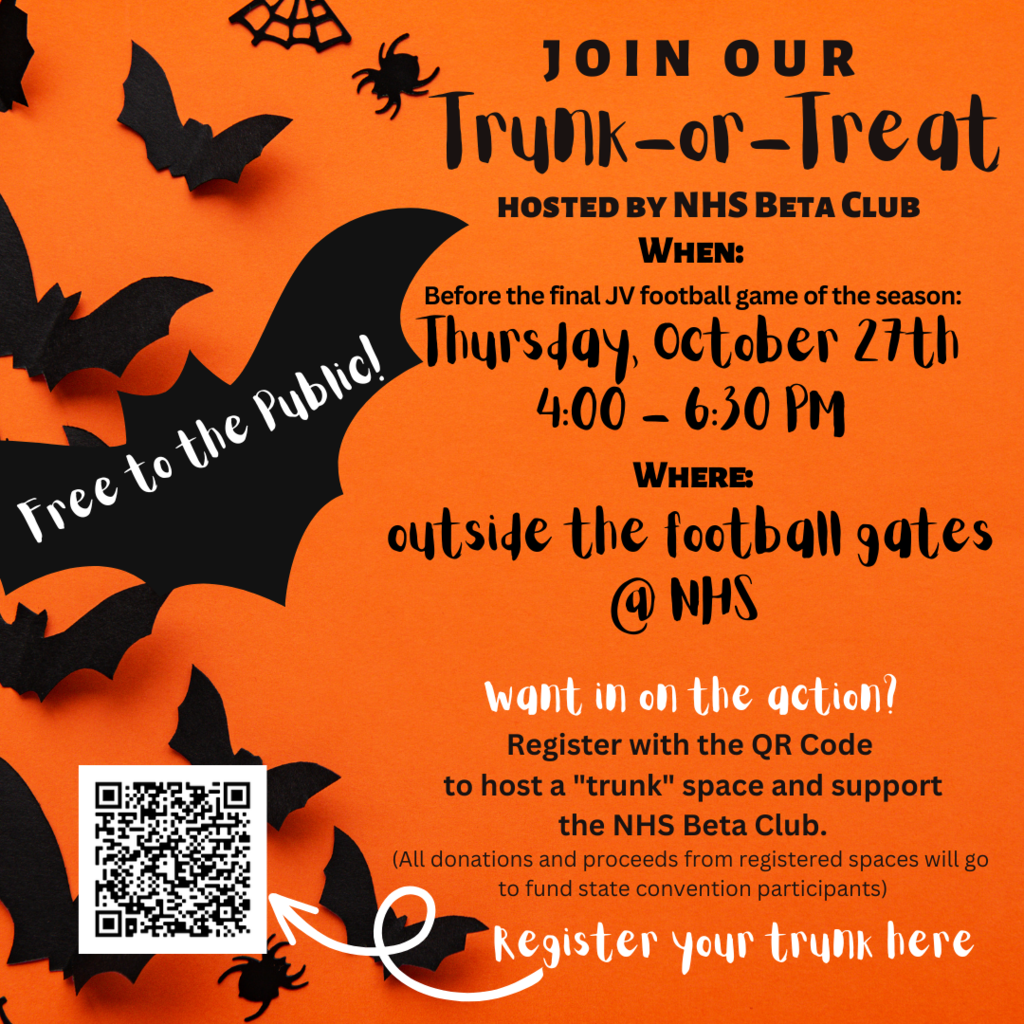 Need tutoring help with eLearning or homework? Tutor.com is here for you! Tutor.com offers free, real-time tutoring for all SC residents.
https://www.scdiscus.org/
Tutor.com is available 24 hours a day, seven days a week, for English and Spanish speakers. Connect with a tutor on various subjects, such as math, science, language arts, social studies, world languages, computer literacy, and AP courses. Tutor.com offers test prep assistance, skills coaching, and help with specific math and essay-writing questions. Unlock even more features with a Tutor.com account. Creating a Tutor.com account is optional and not required to connect with a tutor. Instructions for accessing can be found-
https://www.scdiscus.org/sites/default/files/Discus-tdc-guide-sm-4_0.pdf