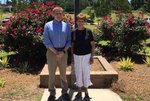 Mr. Wessinger and Ms. Sligh
Congratulations to Mr. James Wessinger, NHS Teacher of the Year!
Mr. Wessinger is in his third year teaching at Newberry High School. He grew up in Chapin, SC and attended Newberry College, where he earned his bachelor's degree in biology. He loves teaching at Newberry High School and enjoys passing his love for biology onto his students. One of his biggest rewards of teaching has been watching the growth of his students over the years. In his spare time, he enjoys fishing on lake Murray, golfing, and spending time with his wife and newborn daughter Emmy.
Congratulations to Ms. Mary Ellen Sligh, Support Staff Member of the Year!
Ms. Sligh has been employed at NHS as our bookkeeper for 27 years, assisting faculty, students and parents with a smile! Ms. Sligh is a 1964 graduate of NHS, and an alumni of the NHS Blue Brigade under the direction of Miss Lorraine Paris. Ms. Sligh's Bulldog Pride is huge and her smile is contagious, which can be seen in person at the many extracurricular school activities that she volunteers for outside of her bookkeeping responsibilites. NHS football fans see Ms. Sligh every Friday night in the ticket booth.
On a personal note, Ms. Sligh is married to her her high school sweetheart, James E. Sligh, and they have 2 children, 3 grandchildren, and one grandchild on the way. Mary Ellen enjoys spending time with her family and friends, swimming and gardening. Ms. Sligh also enjoys caring for a variety of animals on her farm, which include donkeys, duck, cows, dogs, cats and a Flemish rabbit. There is rarely a dull moment living on the Sligh farm!