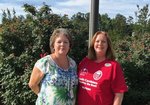 Marilyn Merchant and Mary O'Dell
Congratulations to Mary O'Dell, NHS Teacher of the Year!
This is my sixteenth year teaching, and while I have taught in four other districts, it is in Newberry that I have found the most joy in my profession! I grew up in New York, but have lived in the sunny South for quite some time now. I earned my Associate of Arts from Spartanburg Methodist College and my Bachelor of Arts from the University of South Carolina. My graduate work has been primarily completed at Coastal Carolina University. I am endorsed to teach gifted/talented students and I am College Board Advanced Placement certified in both AP Lit and AP Lang. My teaching career began after working for the United Methodist Church/General Board of Global Ministries as a community outreach director and as a staff development trainer for the SC Department of Juvenile Justice. Since I started teaching, I also work part time for USA Testprep as a content author ...in my 'spare' time, mostly summers:) I am the proud mother of two most-marvelous adults (Michelle and Michael) and three grandchildren--Dominic, Grant, and Sawyer-Kate. Charles Dickens Doodle Dandy-aka Charlie, the dog- is my cuddly canine…and I like long walks on the beach J
My philosophy of teaching…At its best, teaching is a messy synthesis of activities that promote thought and encourage action. At its best, teaching results in learning- learning by everyone involved in the process, including teachers. At its best, teaching guides learners to imagine and reach their potential. True teaching engages learners, demands growth, encourages personal reflection, fosters honest dialogue, and prepares students for both successes and struggles in the 21st century.
-I believe that what I do and how I do it matters in the lives of my students, and therefore must be done with a balance of expertise, enthusiasm, preparation, humility, and humor.
-I believe all students deserve a teacher's best, my best. Everyday.
-I believe all students deserve qualified, caring professional educators invested in their growth.
Congratulations to Marilyn Merchant, Support Staff Member of the Year!
I was very honored and surprised to have been voted the Support Staff Member of the Year at Newberry High School. Knowing that my fellow co-workers and peers votes awarded me this honor, makes it even more special.
I became employed with the School District of Newberry County in 2004 as a Job Coach with the Office of Special Services. In this position I had the great opportunity to work with both Newberry High and Mid-Carolina High students. I worked closely with the students, their teachers, the School To Work Office and the community. I helped to provide the job skills that were necessary for those students who were interested in joining the workforce after graduation. The skills necessary for this position included assisting with filling out applications, specific on the job training, conducting oneself in a professional manner and their specific job responsibilities and other duties as assigned. I also provided the transportation to and from the job site during school hours as well as kept record of work hours. I held this position for 9 years.
In 2013, I became an Instructional Assistant in the ID Moderate class at Newberry High School. I have been in this position for 5 years. My class consists of a very diverse group of special individuals. I work closely with the teacher to assist in helping these students reach their individual educational and functional goals. Their smiles and happiness at their accomplishments are very heartwarming and rewarding.
I graduated from Thornwell High School in 1980. In 1983 I married my high school sweetheart, Gregg Merchant. Together we have raised 3 terrific kids, all graduates of NHS. I earned my Associate Degree in Early Childhood Education from Piedmont Technical College in 2004.