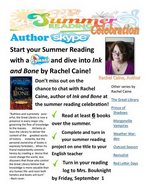 Summer Reading Celebration Flyer
Related Files: Summer_Reading_Celebration_17-18.pdf
Read 6 books this summer to be invited to our Summer Reading Celebration! In order to be inivited, you should:
Read at least 6 books over the summer
In order to submit your reading list, sign up using the app or desktop version of Reader Zone, and make sure to enter your book titles to your book bank!
For instructions on using and signing up for Reader Zone, click here.