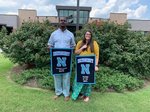 Hannah Faile and Derek Hamilton
Mrs. Faile and Mr. Hamilton
Congratulations to Mrs. Faile and Mr. Hamilton!
Ms. Faile has the following to write about herself:
I grew up in the great state of Georgia! After graduating from high school, I spent 10 weeks in Jamaica doing an internship. I had the opportunity to go into classrooms and help students who were falling behind. It was wonderful to see their progress throughout the summer. I was also able to grow as a leader by leading mission trips into the town where I lived, Port Maria. It was a beautiful and amazing summer. I went onto college at GCSU. I changed my major from early childhood to special education because I knew I would be able to serve those students better. After graduating I moved to South Carolina and got a job at Newberry High School. The faculty and staff have been amazing. They help my passion for teaching grow everyday. Recently, I obtained my Masters Degree in Education Leadership and Administration from Clemson University! GO TIGERS!!