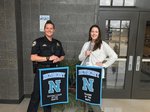 Ms. Cotney and Officer Wilbanks, Teacher and Support Staff Member of the Month
Congratulations to January's Teacher of the Month, Julia Cotney.
Mrs. Cotney began her teaching career at Newberry High School and taught Physical Science, Environmental Science, Physics, and Biology. She then taught at Laurens High for 3 years where she taught Chemistry, Physical Science, and AVID Elective.
She has been back at Newberry High School in the Freshman Academy teaching Physical Science for three years now. Recently, she completed her Educational Specialist Degree in Administration. Mrs. Cotney is married to Coach Clay Cotney who is the Director of the Joe R. Adair Outdoor Education Center in Laurens. They have three big dogs and a daughter, Eliza.
Congratulations to January's Support Staff of the Month, SRO Officer Deanna Wilbanks.
Officer Wilbanks has served as the School Resource Officer to NHS for five years. In addition to serving our community in this vital role, she also coaches for the Lady Bulldogs Volleyball team. Officer Wilbanks is married to Gary Wilbanks and has two children, Callie and Jacob. On a personal note, she thoroughly enjoys working at NHS and interacting with the students and faculty. NHS not only benefits from her professional skills and knowledge, but also from her warm personality and helpful nature.