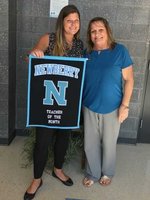 Teacher and Support Staff Member of the Month
Congratulations to Ms. Sarver, Teacher of the Month!
This is Amy Sarver's 5th year at Newberry High School working as a Special Education Teacher. She moved here from Pennsylvania where she graduated from Carlow College with a Bachelor Degree in Early Childhood Education. She earned a Master of Science degree in Special Education from Saint Vincent College (home of the Pittsburgh Steeler training camp). She stays busy with her youngest boys, Jon 11 and Jacob 13. She also has a daughter, Alexis 22, and an older son, Liam 19. Amy absolutely loves working with the special needs students, faculty and staff at Newberry High and is looking forward to a great 2017-18 year.
Congratulations to Ms. Brehmer, Support Staff Employee of the Month!