Buy A Brick for Mr. Bennett's Memorial Garden!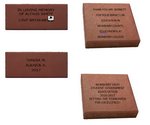 Brick Example
The NHS Chapter of the National Honor Society is fundraising for a memorial garden in memory of Mr. Bennie Bennett, former Superintendent of the School District of Newberry County. The memorial garden will include a garden, bench, and a brick pathway. All funds will go directly to the fundraiser! Please go to the following weblink to order your brick, and see the sample brick example in the picture for ideas!
Thank you for your support of this student led fundraiser!
https://www.bricksrus.com/order/newberryhs
Cash or check can be mailed to Newberry High School or dropped off at the front office.

3113 Main Street
Newberry, SC 29108