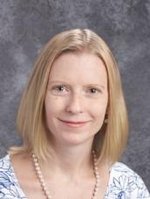 Mrs. Bouknight, School Librarian
See our photo album for pictures at library events!
Library Resources
Print resources: Over 9,000 Books, 15 Magazine Subscriptions and The State Newspaper, The Observer

Library Information
How many books can be checked out at a time?
Where do I get a library pass?
Visits during the school day require passes.

During class - A written pass is required.

Incomplete information on a pass (name, time left, teacher signature) may result in a student being returned to class.

All visiting students from classes must sign in to the computer upon arrival. Failure to do so can result in a student being sent back.

After checking in at the desk and showing a pass, students are to SIGN IN. There is a computer available for you to sign in on.

Where can I sit in the library?
No more than four people at a table

WITH CLASSES: sit in the designated area chosen by the teacher and/or library staff
Can I use the computers?
Check with the library staff for assigned computers. You will have to check out a computer card at the desk first.



Can I have my water bottle in the library?